Portable roll-up ramp
Portable roll-up ramp
The retractable ramp can be used to facilitate the use of a wheelchair in different environments. Click here to learn about the retractable ramp and buy it.
Features
• With three width of 20 (two pairs), 70 and 100 cm
• Made of High-Strength Aluminium Alloy
• Anti-slip Coating
• Foldable and Occupies a Very Little Space
• Light-Weighted and Portable
• Quick and Easy Length Modification
• Weight Capacity of 500 kg
• Can be Installed in Open Spaces – Waterproof
Accessories
• Protection pillars
• Steel Clamps for the Platform
• Cable Winch for Steep Slopes or Freight Use
• Standard Distance for Two Paired Ramps
When using the roll-up ramp, at least two pieces should be placed – in the straight surface of the space landing in order that the ramp .not to be slip
For each ramp length more than 150 cm, one pair support stand – .(is necessary (roll-up ramp accessories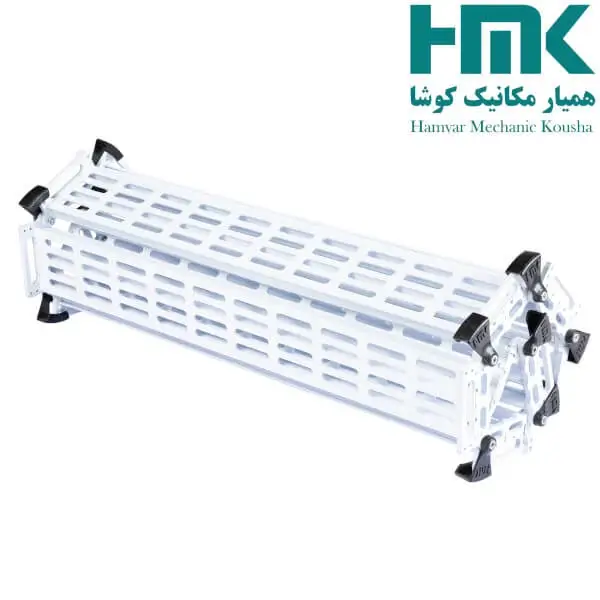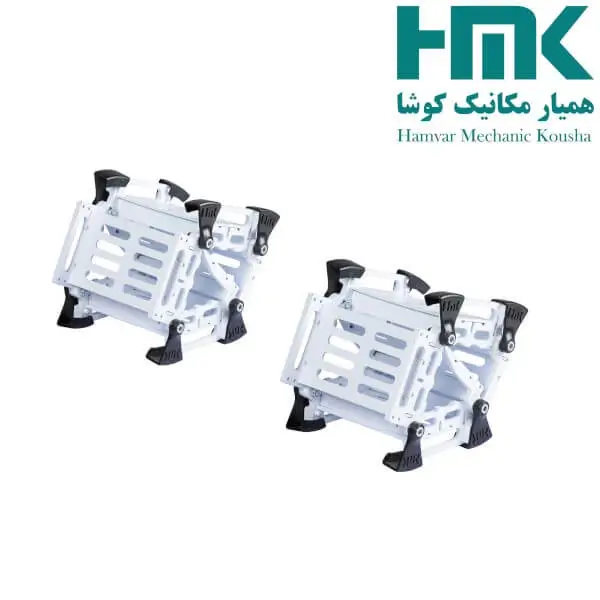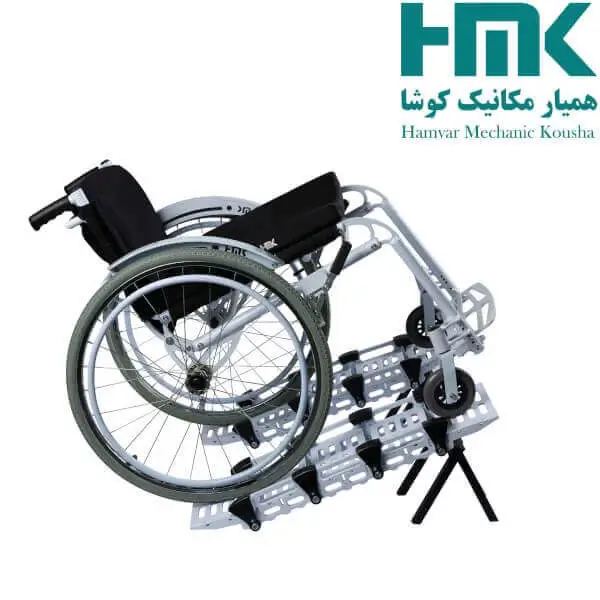 Free shipping throughout Iran
Seven-day return guarantee
Five years of our service after the sale
l
Getting to know the retractable ramp
Many buildings are not suitable for disabled people. For example, there are many short stairs in the buildings, which makes it difficult for this group of people to move in them. Retractable ramp is a product that can be used to adjust the traffic routes of buildings easily, without additional cost and without destruction. This product has a very high resistance and is produced in different lengths to cover long distances.
Advantages of buying a retractable ramp
People can benefit from many advantages by purchasing the retractable ramp of Hamiyar Mechanik Kosha Company, including the reasonable cost for adapting traffic routes, no need for destruction, the device's mobility and easy portability. If the traffic routes of your building need to be adapted for the disabled and disabled people, buying this product from Hamyar Mechanic Kosha website is the best option for you. We get to know the benefits of buying a retractable ramp.
Optimizing the traffic routes of buildings with the lowest cost
Adapting the traffic routes of buildings has a high cost, and people should install fixed ramps next to the stairs of their buildings. The construction of these ramps is expensive and changes the design of the building. If you buy a retractable ramp, you can adapt the traffic routes of your building for people with wheelchairs without paying the high cost of building fixed ramps. It should also be noted that these ramps are portable and can be placed on the stairs of other traffic routes if needed. The cost of buying this product is much lower than the construction of fixed ramps.
No need for destruction or permanent installation
In order to build fixed ramps, people have to demolish part of the traffic path of the building. This can reduce the beauty of the building environment, and that's why many people regret adapting their traffic routes for disabled people. Also, normal ramps are permanently installed and cannot be moved. If the installation of retractable ramps does not require the destruction of the building and people can place this product on the stairs.
On the other hand, these ramps do not need to be permanently installed and can be moved at any time. For example, you can place this product on the steps of your building during a ceremony and collect it easily after the ceremony.
The mobility of the collapsible ramp for use in different routes
Portability is one of the most important advantages of purchasing a retractable ramp. Because disabled people need this product for their daily commute and should be able to place it in different parts of their commute. For example, a government building has several staircases, and disabled people must place this product on all these staircases in turn with the help of their companion. It should also be noted that due to the widespread use of the retractable ramp, people can also use it to get off vans and buses.
The possibility of using a retractable ramp in the open air
Due to the material used in the retractable ramp, people can easily use this product outdoors. Because this product is made of aluminum alloy, which has a very high resistance to moisture. Also, the other parts used in Kosha Mechanic's collapsible ramp have an electrostatic paint coating, which are very suitable and highly resistant to environmental conditions such as humidity and sunlight.
Easy to carry by car
One of the most important advantages of purchasing a retractable ramp is its easy portability with passenger cars. As it has been mentioned, Kosha Mechanic's Retractable Ramp is produced in different dimensions. For this reason, only ramps with a maximum length of three meters can be carried in the trunk of the car, and if the length of the product exceeds this value, people must carry the ramp with other vehicles.
Generally, ramps with a length of three meters are enough for daily traffic, and that's why people can easily carry this product in the trunk of their car. If you need a device to increase the ease of movement on the paths with stairs, you can buy the Kosha Mechanical Assistant Retractable Ramp with a valid one-year warranty.
Retractable ramp features and specifications
Portability, light weight, use of aluminum alloy and easy use are the most important features of Kosha Mechanic's Retractable Ramp. This product has other very attractive features that make it one of the best products in our collection. For example, an anti-slip coating is used on the surface of this ramp to reduce the possibility of wheelchairs slipping when transferring a wheelchair over it.
This product can bear up to 300 kg in the normal version and up to 500 kg in the customized version. It should also be noted that Kosha's mechanical assistant retractable ramp comes with various accessories to make it easier for people to use it. Among these accessories, we can mention the support bases, steel fasteners and cable pullers for high slopes.
Other applications of retractable ramp
Retractable ramp is used in many environments and this product can be used to adapt all types of traffic routes. This product can be used in commercial buildings, cinemas, theaters, conference and seminar halls, hospitals and medical centers. Retractable ramps can also be used in buses, minivans and travel vans.
One of the important points when using this product is to use
In ramps longer than 150 cm, people should use one pair of bases for every 150 cm. Among the obstacles that can be adjusted using this product, the following can be mentioned:
Bridge
Step
platform
Single obstacles
Double barriers
Buying a retractable ramp from Kosha Mechanic Assistant
Kosha Mechanic Co., Ltd. has started its activity since 2015 in the field of production and sale of rehabilitation and adjustment equipment and has a very good reputation in this field. Retractable ramp is one of the best products in our collection, by using which people can adapt many traffic routes of their building with the least cost and without destruction. This product comes with a valid one-year warranty and five years after-sales service of Kosha Mechanic Assistant. You can also buy the retractable ramp in installments.
catalogue Portable roll-up ramp
videos Portable roll-up ramp
In cases where obstacles such as stairs prevent easy and safe transfer for moving wheelchairs or similar vehicles, it is possible to adapt the desired surfaces by using mobile ramps (portable retractable ramps) and simply It moved between two levels with a difference in height.
In terms of length, there is no limit to the order of retractable ramps, because the production ramps of Kosha Mechanics are installed in the form of multiple pieces, therefore, it can be increased to any number and size.
These ramps can be produced and ordered in three widths of 20 cm (two ledges), 70 cm and 100 cm.
On the page of each product, there is an introduction catalog and product details.
Free consultation
To get a free consultation about any of the products, contact now with the experts of Kosha Lallmechanika Company.
021 468 91489
similar products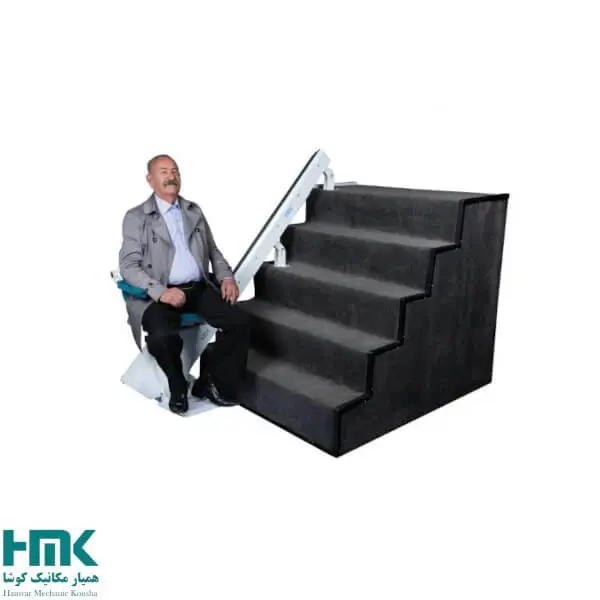 Standing Stair Lift
Buying all kinds of circular and direct stair lifts with a seven-day return guarantee, after-sales service and free shipping all over the country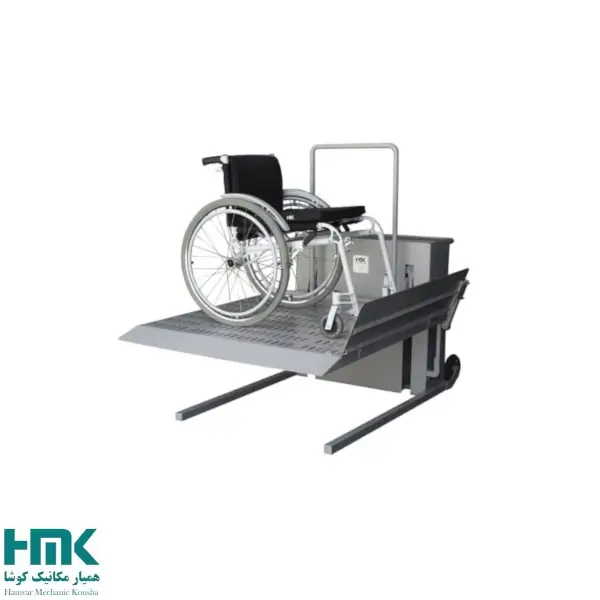 Vertical Lift
The vertical lifting device is the best option for moving people with wheelchairs. Click here to learn about the price, features and specifications of the vertical lifting device and to buy it.
Wheelchair Stair Lift
The price and purchase of a wheelchair model stair lift Enter the website to view the price, specifications, application and benefits of the wheelchair model stair lift.