Standing wheelchair-semi-electrical
Standing wheelchair-semi-electrical
Price and purchase of stationary wheelchair Enter the website to see the features, user and specifications of the stationary wheelchair for disabled patients.
• Made of High-Strength Aluminium Alloys
• Light-weighted and Transportable by Various Types of Cars without the need for Roof rack Cargo Basket
• Customized Design – fit to size
• Variety of Color Choice based on Customers' Taste
• Weight Capacity 120 kg
• Supported by Six Points Attached to the Ground in Standing Positions for More Stability
• Adjustable Height and Footrest Angle and Adjustable Handle Height
• Safety Belt and Knee Pad
• Quick Removable Inflatable Wheels
• Washable and Adherable Seat Cushions
• Moisture Resistant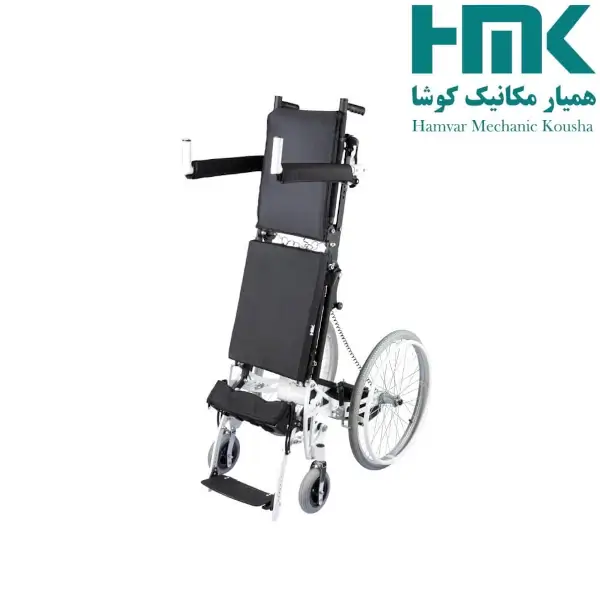 Free shipping throughout Iran
Seven-day return guarantee
Five years of our service after the sale
Getting to know the stationary wheelchair
Disabled, weak, elderly and sick people use wheelchairs to move. In fact, a wheelchair is the best tool for easy movement of this group of people. These devices are produced in different models such as folding wheelchairs and stationary wheelchairs, each of which has its own specifications and features. Static wheelchairs are a suitable option for patients who need rehabilitation and standing. In fact, these types of wheelchairs can also be used standing so that disabled people can stand on their feet with the help of this device.
Advantages of buying a stationary wheelchair
Buying a stationary wheelchair has many benefits for patients and disabled people, among which we can mention improving the independence of patients, increasing mental and physical ability, and improving the performance of various body systems. These wheelchairs can be used like regular wheelchairs, and their static ability allows disabled people to experience standing as well. This experience can be an attractive and pleasant experience for patients who have not stood on their feet for years. We get to know the benefits of buying stationary wheelchairs.
Improving the sense of independence of disabled patients and the elderly
One of the most important advantages of buying stationary wheelchairs from Kosha Mechanical Assistant is increasing the sense of independence of disabled patients and the elderly. In fact, these people have needed the help of a companion or nurse to stand or move for many years, and by purchasing this type of wheelchair, they can experience standing alone. This is very important to increase the morale of this group of patients so that they can experience independence and not needing others again. If the spirit of your patient or the elderly is important to you, you can buy this type of wheelchair from Hamyar Mechanic Kosha website with a one-year unconditional warranty.
Increasing mental and physical ability of patients, disabled and elderly
Many frail and elderly patients have been lying or sitting in their beds for many years. Because of this, their mental and physical ability is degraded over time. By purchasing a stationary wheelchair, your patients can stand on their feet so that their body muscles are active again. On the other hand, the mood of disabled people can be much improved by using folding wheelchairs. Because the experience of standing on your own feet and feeling independent can change the spirit of these people. It should also be noted that by using this type of wheelchair, the possibility of bedsores is reduced for disabled patients, and their bodies can have better health conditions by standing.
Improving the performance of various body systems
Disabled people, disabled people and the elderly, in addition to the problems they have, some of their body systems such as the muscle system or the activity of their digestive system can suffer from sitting too much. If using a stationary wheelchair, the performance of these systems can be improved. For example, by using these types of wheelchairs, muscle spasms and muscle cramps are greatly reduced. Also, the possibility of osteoporosis and movement limitation of body joints is also reduced by using stationary wheelchairs. Among other improvements in body systems, the following can be mentioned:
Prevent kidney problems such as kidney stones
Increasing blood circulation in different parts of the body, especially in the legs and back
Increasing muscle strength to withstand pain caused by illness or old age
The possibility of carrying a stationary wheelchair with a car without the need to use a carrier
Another advantage of buying a stationary wheelchair is the possibility of transporting it by car. Mobility of wheelchairs is an important component in their selection. Because the companions of disabled people should be able to move wheelchairs easily and with their car to different environments. Despite its large dimensions, the static wheelchair of Hamiyar Mechanic Kosha can be transported by car without the need for a carrier. Because this type of wheelchair is collapsible and all its components are assembled well. It should also be noted that the wheels and handles of this wheelchair can be removed from its body to make it easier to carry with small cars.
Features and technical specifications of static wheelchair
Hamiyar Mechanic Kosha static wheelchairs are made of strong aluminum alloy to easily support 120 kg load. The weight of this wheelchair with wheels is 35 kg and without wheels is 29 kg, which is an ideal weight due to its very suitable use. Kosha mechanic assistant static wheelchair has four points of support on the ground in standing position to have a proper balance.
In this wheelchair, to increase the safety of patients while standing, a safety belt and a support pad for the knee are installed. Also, all parts of this product are resistant to moisture and can be safely used outdoors. Among other features and technical specifications of this functional wheelchair, the following can be mentioned:
Very light weight (35 kg)
Having the ability to adjust the height of the footrest and static wheelchair handles
Having pneumatic wheels for easy portability
Has washable adhesive mats
Five years after-sales service
Other applications of static wheelchairs
Static wheelchairs are not only used to change the position of disabled patients from sitting to sitting, and they can be used for other purposes as well. For example, these wheelchairs are also used for disabled housewives so that they can do housework without the help of others. Also, since these wheelchairs can be used in a sitting position, they can be used as wheelchairs.
Common fodder is also common. Hospitals, health centers, treatment centers, physiotherapy, rehabilitation centers and nursing homes can also use these wheelchairs to move patients and change their condition.

Buying static wheelchairs from Hamiyar Mechanic Kosha
A stationary wheelchair is the best choice for patients who are unable to stand and can stand on their feet for an hour a day with the help of this device. You can buy these wheelchairs from Hamiyar Mechanic Kosha with a valid one-year warranty and five years of after-sales service. It should be noted that it is also possible to purchase this product in installments from Kosha Mechanic Assistant. Also, this product is offered with a seven-day return guarantee in case you are not satisfied with Kosha Mechanics.
catalogue Standing wheelchair-semi-electrical
videos Standing wheelchair-semi-electrical
A stationary wheelchair is a device that can be used to stand in addition to the capabilities of a normal wheelchair. In addition to increasing physical and mental ability, the benefits of a stationary wheelchair include reducing muscle cramps, improving blood circulation, performing physical therapy exercises, etc.
Hamiyar mechanic Kosha static wheelchair has fully customized dimensions that are designed and produced according to the dimensions of each person.
On the page of each product, there is an introduction catalog and product details.
Yes, this company is knowledge-based and has started its activity since 2015 with national ID number 14006191646.
Free consultation
To get a free consultation about any of the products, contact now with the experts of Kosha Lallmechanika Company.
021 468 91489
similar products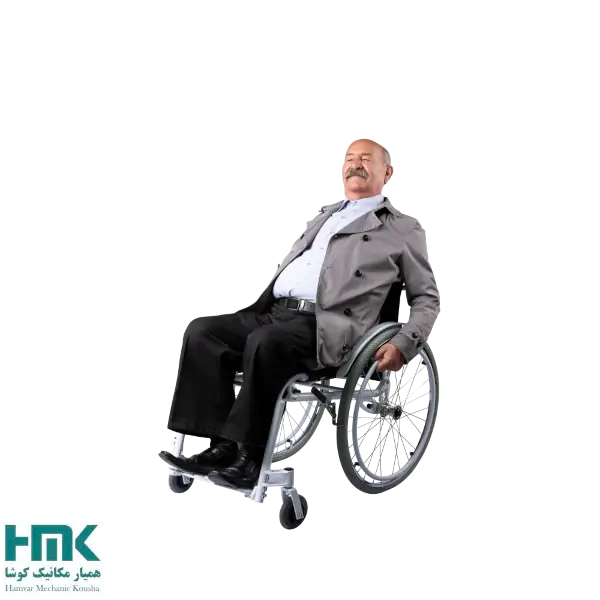 Foldable lightweight wheelchair
The best tool for moving patients, disabled and elderly people is a folding wheelchair. Click here to know the price, specifications and features of the folding wheelchair.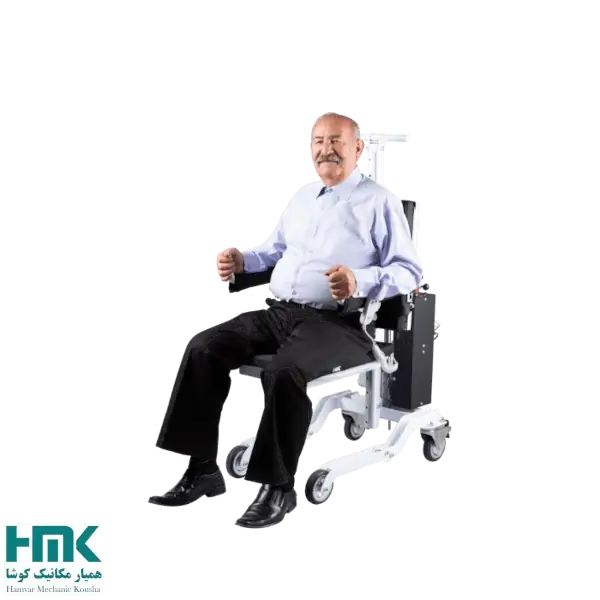 Dual Lift Plate
The price and purchase of a lifting chair from the ground Log in to the site to see the price, specifications, benefits and features of the lifting chair from the ground.
Patient Lifting Hoists
The price and purchase of a crane-type patient lift suitable for the home environment Log in to the site to see the price, specifications and application of the crane model patient lift.