Foldable lightweight wheelchair
20,000,000 million tomans
Foldable lightweight wheelchair
The best tool for moving patients, disabled and elderly people is a folding wheelchair. Click here to know the price, specifications and features of the folding wheelchair.
20,000,000 million tomans
• Made of High-Strength Aluminium Alloys
• Lightweight, Easy Transport by Car
• Foldable and Occupying Less Space (when Folded) in Comparison to Regular Wheelchairs
• Customized Design for Every Person
• Variety of Color Choice based on Customer's Taste
• Quick Removable Inflatable Wheels
• Washable and Adherable Seat Cushions
• Moisture Resistant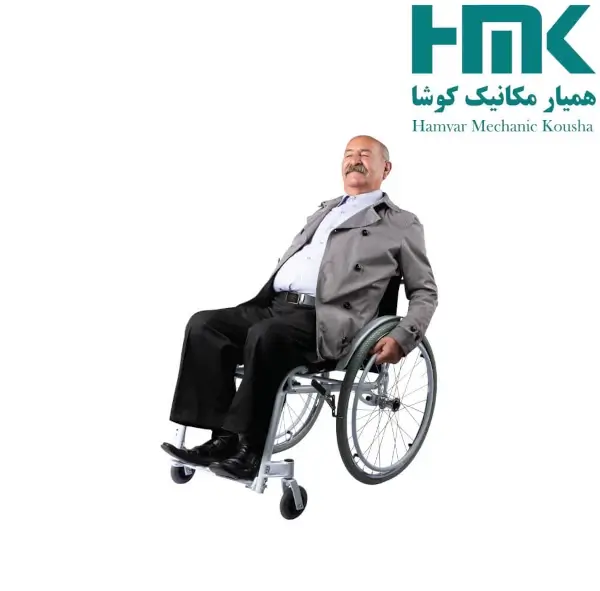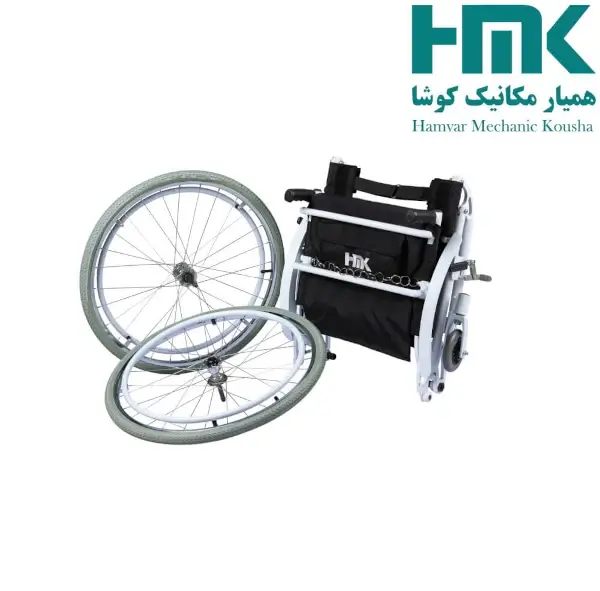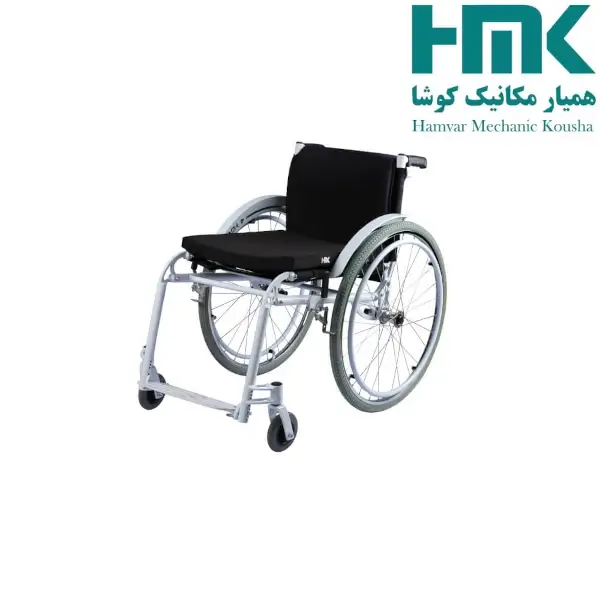 Free shipping throughout Iran
Seven-day return guarantee
Five years of our service after the sale
Getting to know the folding wheelchair
Wheelchairs are one of the most common equipments in the field of the elderly that almost many elderly, sick and disabled people use this device for daily transportation. There are different types of wheelchairs, such as electric wheelchairs, sports wheelchairs, and folding wheelchairs, and this model is one of the best types of wheelchairs. Because this product is collapsible and can be easily carried with you for use in different environments. Despite the fact that this product is very simple, knowing its features and technical specifications can definitely be interesting for you. Be with us to get to know this practical product better and to buy it from Kosha's Mechanic Assistant.
Advantages of buying a folding wheelchair
Wheelchairs need no introduction and everyone is familiar with these practical wheeled products. Elderly people, infirm patients and disabled people can move easily and without straining themselves using this product. On the other hand, nurses and companions of the patient can also move their patient or the elderly easily and without problems by using a folding wheelchair.
It should be noted that folding wheelchairs assisted by Kosha mechanics are completely different from normal wheelchairs in terms of function and structure, and they have much more attractive features. If you need a light, portable and high-quality wheelchair, buying a folding wheelchair from Kosha Mechanics is an ideal option for you. In the following, we will get to know the advantages of buying a folding wheelchair.
portability; The main advantage of folding wheelchairs
As it is clear from the name of the folding wheelchair, the main focus of the Kosha Mechanical Assistant during the production of this product has been the production of a portable wheelchair. You may say that ordinary wheelchairs are also collapsible and can be transported by car. If it should be said that unlike normal wheelchairs, most of the parts of Kosha Mechanic Assistant folding wheelchair can be folded and separated. For example, the wheels of this device can be removed so that people can easily place it in the car. On the other hand, the structure of this product is such that all its bases and wheels can be assembled well.
The possibility of designing with the size required by the customer
Disabled people have bodies of different sizes, and that's why some of these people have problems when using normal wheelchairs. If you buy a Kosha mechanic folding wheelchair, you can order it according to the size of your patient or elderly. The wheelchair delivered to you is perfectly suited to the size of your patient, and he can easily use his wheelchair for daily transportation.
Very low weight of the device
One of the most important components in the portability of a Wichler is its weight. Due to the use of very strong but light alloys in the construction of the folding wheelchair, this product weighs only 10 kg. It should be noted that this amount is without wheelchair wheels and the wheels themselves weigh only 3 kg, which brings the final weight of the product to 13 kg. This amount is ideal for a high-quality and durable wheelchair. For comparison, a large sack of rice also weighs 10 kg, and therefore it can be said that the weight of this product is very low and it can be easily carried.
The possibility of easy movement of disabled people
The main advantage of buying a folding wheelchair is the ability to easily move disabled people such as the elderly and disabled. In fact, with this product, you no longer have to worry about carrying these people's wheelchairs to different environments, and you can easily carry these people's wheelchairs in different environments. These people can also move in different environments without restrictions and difficulties and forget their limitations. Creating comfort and convenience for disabled people is very important. Because by increasing the comfort of these people, life becomes much more enjoyable for them.
Very high color variation
Many organizations and health centers are interested in purchasing wheelchairs with different colors. On the other hand, for some young disabled people, the color of their wheelchair is very important. That's why Kosha mechanic assistant folding wheelchair is available in different colors depending on the choice of customers, so that people can buy the product they want without restrictions.
Features and technical specifications of folding wheelchairs
As mentioned, wheelchairs are very simple, but folding wheelchairs have specifications and features that make them different from other normal wheelchairs. For example, these wheelchairs can bear up to 120 kg of weight, which is considered a suitable number due to its portability. It should also be noted that this product comes with a washable adhesive mat so that people can wash it easily.
The wheels of this product are pneumatic so that it has a good ride and people can use it easily. In the end, it should be said that this Kosha mechanic assistant product comes with five years of after-sales service so that you can have peace of mind about the supply of its parts.
Other applications of folding wheelchairs
Due to the fact that wheelchairs are very simple devices, they generally have no other use, but people can also use folding wheelchairs for sports or outdoor activities. Because these types of wheelchairs are very easy to carry and can be taken to green spaces or parks so that disabled people can experience the pleasant atmosphere of these spaces. On the other hand, it should be noted that these wheelchairs are widely used in hospitals, nursing homes, wheelchair rental centers, holy facilities and rehabilitation centers. Because people can easily fold folding wheelchairs and therefore it is much easier to store them.
Buying a folding wheelchair from iranhmk
Providing comfort and convenience to disabled people, including the elderly and disabled, is very important and a very desirable job. You can give comfort and convenience to your patient or the elderly by buying a folding wheelchair from Hamyar Mechanic Kosha. Also, by purchasing this product, you will be relieved from the difficult moving of old heavy wheelchairs and you can carry these products easily and without problems with you to different environments. Hamiyar Mechanic Kosha folding wheelchair comes with a one-year unconditional warranty and a seven-day return guarantee. You can also buy this product in installments.
catalogue Foldable lightweight wheelchair
videos Foldable lightweight wheelchair
Along with light weight, strong aluminum structure, customization based on body dimensions, Hamiyar folding wheelchair has a unique design structure that occupies very little space when folded.
Hamiyar folding wheelchair weighs about 9 kg without wheels.
Yes, this company is knowledge-based and has started its activity since 2015 with national ID number 14006191646.
On the page of each product, there is an introduction catalog and product details.
Free consultation
To get a free consultation about any of the products, contact now with the experts of Kosha Lallmechanika Company.
021 468 91489
similar products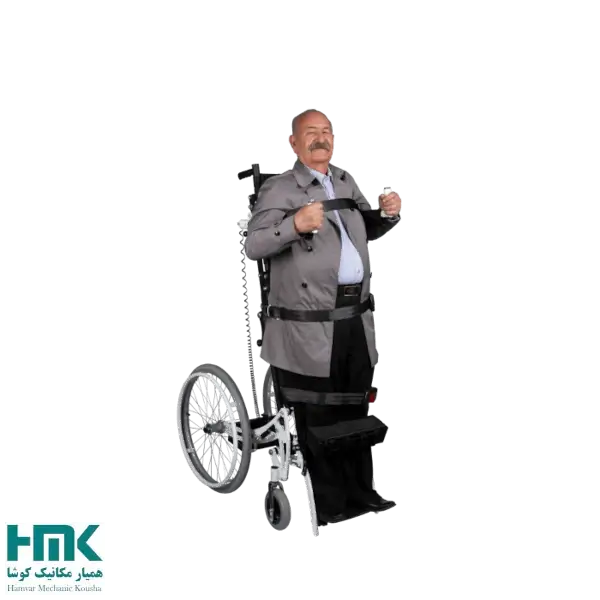 Standing wheelchair-semi-electrical
Price and purchase of stationary wheelchair Enter the website to see the features, user and specifications of the stationary wheelchair for disabled patients.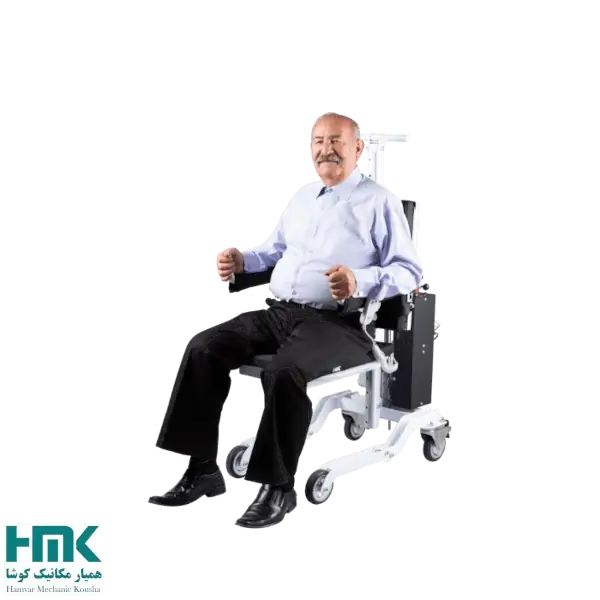 Dual Lift Plate
The price and purchase of a lifting chair from the ground Log in to the site to see the price, specifications, benefits and features of the lifting chair from the ground.
Patient Lifting Hoists
The price and purchase of a crane-type patient lift suitable for the home environment Log in to the site to see the price, specifications and application of the crane model patient lift.